Wireless Steam Trap Monitor
Save energy costs by remotely monitoring your steam traps for costly leaks and blockages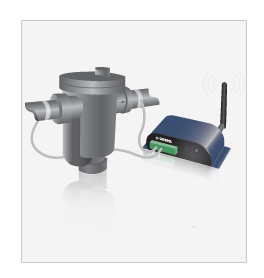 Steam traps are mechanical devices installed on steam pipes to remove condensate; they are needed to maintain the proper operation of steam distribution systems. According to the U.S. Energy Information Administration, an average 15-20% of steam traps are leaking at any given time. Even a small steam trap can lose thousands of dollars per year through leaks.
Most facilities perform a steam trap audit once a year – a time-consuming process which involves sending technicians to manually inspect hundreds of traps at a time. Because of the infrequent inspections, traps may be leaking for many months before being discovered.
The Cypress Envirosystems Wireless Steam Trap Monitor is a non-invasive device which installs in minutes and helps to automatically monitor steam traps for failures, and to notify staff in a timely manner to avoid wasting energy.
Pager/Cell notification of excursions (catch expensive leaks early)
Non-invasive installation: no breaking seals, wireless
OPC and BACnet interfaces for integration with existing automation systems
Battery life of 3+ years at typical sample rates
Optional IP65/NEMA 4 rated enclosure for outdoor use
Download the Wireless Steam Trap Monitor Product Brief
Calculate the payback period for your facility HERE>
---
Product Overview
Where To Buy
Case Study