Awards and Recognition
---
Cypress Envirosystems Selected for the University of Toronto's 2014 Green Ribbon Award
---
Cypress Envirosystems' Wireless Pneumatic Thermostat Selected for Building Operating Management 2012 Top Products Award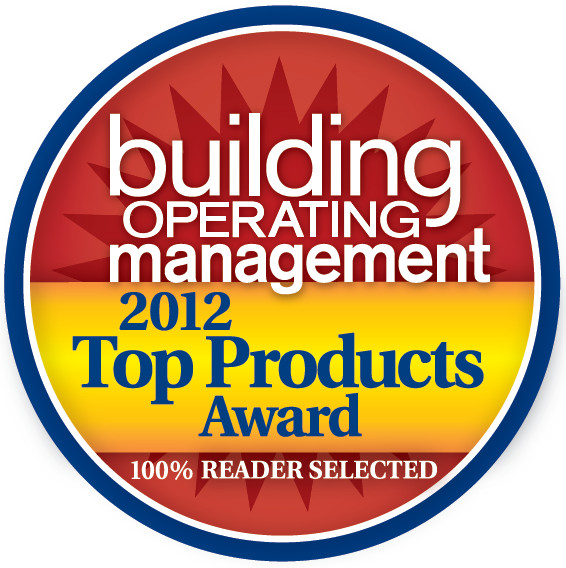 SAN JOSE, Calif., December 7, 2011 – Cypress Envirosystems, a subsidiary of Cypress Semiconductor Corp. (Nasdaq:CY), today announced that its Wireless Pneumatic Thermostat (WPT) has been selected by Building Operating Management (BOM) for their 2012 Top Products award. This award is issued annually to products in various categories that significantly improve the performance and operations of commercial buildings.More
---
Cypress Envirosystems' Wireless Pneumatic Thermostat Selected as a BuildingGreen Top-10 Product for 2012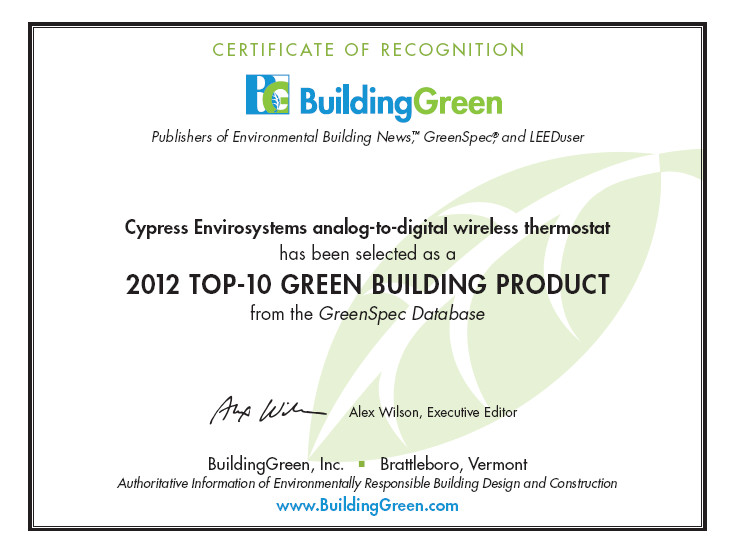 SAN JOSE, Calif., October 14, 2011 – Cypress Envirosystems, a subsidiary of Cypress Semiconductor Corp. (Nasdaq:CY), today announced that its Wireless Pneumatic Thermostat (WPT) has been selected as one of BuildingGreen's Top-10 products of the year by the editors of Environmental Building News and GreenSpec®. This tenth annual award recognizes the most innovative and exciting green building products added to the GreenSpec® Directory during the past year or covered in Environmental Building News. More
---
'Gold Award Winner' 2010 Dealer Design Award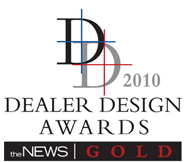 Cypress Envirosystems was recognized for excellence in product design in the 6th annual Dealer Design Awards Program sponsored by The Air Conditioning Heating & Refrigeration News magazine. An independent panel of 30 contractors acted as judges in the contest that had 114 entries from different industry brands. The Wireless Pneumatic Thermostat (WPT) was the Gold Award Winner in the Commercial Controls category. The ACHR News is the leading trade magazine in the heating, ventilating, air conditioning, and refrigeration industries. ACHR News Publisher John Conrad stated, "These awards give us a unique opportunity to recognize the outstanding research and development efforts that go into many of the products serving the HVACR industry and the awards issue gives our readers an opportunity to read about innovative installation and service solutions." Winning entries in the Dealer Design Awards were featured in the July 12, 2010 issue of The ACHR News, which is distributed nationally to over 33,000 HVACR contractors, wholesalers, and other industry professionals. More
---
'Gold Winner' Gases & Instrumentation International 2010 Golden Gas Awards
Wellesley Hills, MA—February 17, 2010—Gases & Instrumentation International, a MetaWord, Inc. premiere publication covering the technology of industrial, specialty and medical gases, announces the winners of the 2010 Golden Gas Awards.
This year's competition attracted more than 43 entries in 8 categories. Each product was rated on 5 criteria based on the product's ability to solve an important challenge to the gas industry; technological innovativeness; environmental "green" attributes; superior specifications in terms of power requirements, speed, footprint, maintenance; cost effectiveness, and other quality considerations. Each criterion was awarded points from 0-10. If any product came within 3% of the winner, it was given the Silver Award. More
---
The Boston Consulting Group recognized the WPT as a leading technology for reducing energy use and carbon emissions

The Wireless Pneumatic Thermostat (WPT) was featured in a study commissioned by the Global e-Sustainability Initiative (GeSI) (available at www.bcg.com). The study, conducted by The Boston Consulting Group (BCG), unveils a practical methodology for evaluating the carbon-reducing potential of new technologies. It used the Wireless Pneumatic Thermostat (WPT) from Cypress Envirosystems as a case-study of how the methodology works, and shows impressive reductions in both energy consumption and carbon dioxide emissions from the WPT. More
---
'Buildy' Award Winner at 2009 Connectivity Week
SANTA CLARA, CA – June 11, 2009 – ConnectivityWeek hosted the 6th annual Buildy Awards. Since 2004, the Buildy Awards have been presented to leaders, visionaries and implementers of smart devices and smart systems in the context of commercial buildings, residential, energy management and smart grid and related applications. The 2009 Buildy Awards Gala was attended by a new generation of future leaders in the form of the YoungEnergy panel who have impressed this year's attendees during the conference with their drive and understanding of what needs to be achieved in this new era of Smart Energy.
The winners were announced during the Awards Gala on June 10, in Santa Clara, CA. and acknowledge the leaders in the critical energy segments that will define the scope of where energy is consumed and where Smart Grid, Smart Devices and Smart Services will play a vital role.
The five award categories — Building Connectivity Implementation, Industrial Connectivity Implementation, Smart Grid Initiative, Smart Devices and Smart Services attracted a range of great products and solutions that resulted in a very tight contest for the awards.
The 2009 winners had their awards presented to them by past winners Jack McGowan, Ken Sinclair, Keith Gipson, Bob Heile and Ed Richards, who all related how they have seen the industry changing since the first Buildy Awards event in 2003. More